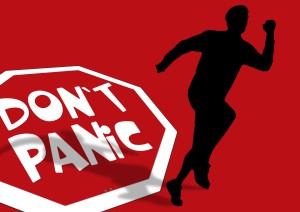 Group Therapy for Panic Disorder
CPBS is proud to offer group treatment for panic attacks and panic disorder.  Our panic treatment groups are ideal for individuals who are new to treatment, or for those who want to work alongside others with similar symptoms and treatment goals.
This group requires no previous experience with panic treatment; however, it does require active engagement, an open mind, and a willingness to fight back against your panic symptoms.  Consistent with cognitive behavioral therapy principles, participants will be expected to complete therapy-related homework assignments between sessions (e.g., readings, panic logs, exposure therapy exercises).
Our panic group treatment program consists of 6 weekly "workshops" that will provide you with information about panic attacks and panic disorder, including the basics of cognitive behavioral treatment (CBT) for panic.  The goals of this program are to jumpstart your recovery and to help you connect with others who are facing similar challenges.
CBT for Panic
Level 1: Panic Basics
This group treatment program for panic attacks is based on cognitive behavioral therapy (CBT) and involves an action-focused recovery plan from panic disorder.  We will help you confront your fears and challenge the avoidance behaviors that maintain the panic cycle.
Participants will learn:
What causes and maintains panic attacks.
How to tell the difference between panic disorder and other anxiety disorders (e.g., social anxiety, PTSD, OCD, GAD).
How avoidance behaviors and safety behaviors are involved in the panic cycle.
How to identify panic-related triggers (both external and internal triggers).
Skills like progressive muscle relaxation and diaphragmatic breathing.
Exercises designed to help you confront feared situations or sensations.
How to identify and change unhelpful thinking patterns that contribute to your panic.
And much more…
Panic Treatment Program Details
What: Group treatment for panic attacks and panic disorder.  Groups are kept small (usually a maximum of ~6 people per workshop).
Where: 11641 Kew Gardens Avenue, Suite 207, Palm Beach Gardens, FL.
When: Groups will meet weekly for 6 weeks beginning in July 2012.  Specific meeting days/times will be determined based on group member availability.
Who: Groups will be led by licensed psychologist, Dr. Steven Seay.  

Prospective group members must be approved prior to joining. 

Fees: Our office does not accept insurance, and participants must pay for treatment at the time of service.  However, most of our clients are at least partially reimbursed by their insurance companies according to their out-of-network benefits.  After each meeting, we provide you with a "superbill" that you can submit to your insurance company for reimbursement.  Your reimbursement rate is then based on your "out-of-network" benefits.  If you would like to use out-of-network benefits, we recommend that you first clarify your benefits with your insurance company (i.e., deductibles, percentage covered, number of sessions allowed, etc.).
Panic Basics is a closed group that has specific start dates and end dates and operates according to a specific pre-planned sequence of treatment modules. Some modules are designed to provide foundational knowledge about panic, whereas others focus on the development of coping skills or cognitive behavioral therapy (CBT) strategies. After covering basic concepts and strategies related to treatment, group therapy then progresses according to an evidence-based, individualized treatment plan. Because each week builds on information presented during previous workshops, participants should be willing to commit to the entire group sequence in advance in order to join the group.  New participants will not be allowed to enroll after the group has started, as they would have missed out on important information covered in previous workshops.
What's the next step in my recovery from panic?
Recovery from panic attacks and panic disorder takes time, persistence, and hard work…  As such, at the conclusion of our 6-week group therapy program for panic, you are unlikely to be symptom-free.  However, you will have the foundational knowledge and skills you need to continue with your individualized recovery program.  Some graduates of our program continue their recovery on their own using self-help based strategies; others take advanced panic workshops or continue treatment with the assistance of a CBT therapist.
If you have additional questions about group therapy for panic disorder or would like to participate in our panic workshop series, please contact our office at (561) 444-8040.